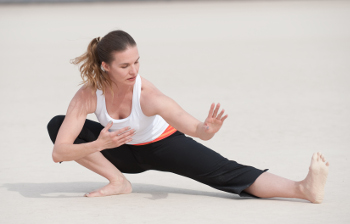 Sabrina Mix began her journey into Mindfulness Meditation before it was mainstream. She incorporates mindfulness into her daily life, and encourages her students in each art she shares to relax and focus on the present moment. Her training has complemented her life journey through professional martial arts instruction and years of competitions into motherhood and life balance. Sabrina leads unique programs of mindfulness and meditation training to various age groups. Her goal is to introduce concepts for immediate relaxation with a path towards progression for happiness and focus throughout our daily lives. She encourages a balance in workouts of stretching, lengthening, and strengthening the body through chi kung, yoga and pilates principles with western benefits including weights and calisthenics.
Sabrina has achieved the ranks of 4th degree black belt in Hapkido under Grandmaster Myung of the World Hapkido Federation. She holds the rank of 4th Dan in TaeKwondo, World TaeKwonDo Federation, as well as ranking in the ITF systems. She has trained under Grandmaster James Garrison. In Aikido, Sabrina has a 1st degree Black belt and did much training with Toyoda Shihan. Tai Chi and Chi Kung as well as Tibetan meditation were studied for over 10 years with Lama Padma of Amrita among others. She has been a student of Yoga, Judo with sensei Charlie Brown and Jujitsu. Sabrina began training in her teen years and has brought many students to the black belt level.
In addition to Martial Arts and Mindfulness Instruction, Sabrina has run a non-profit organization, children's martial arts camps, Intro to French, and pioneered a martial arts program for Adapative Rec students in Redmond. She has been a professional graphic designer, and her hobbies include origami, crochet, and fine arts, as well as biking, skiing and tennis with her family.
Sabrina is married to Matthias Leibmann. Together, Sabrina and Matthias have 4 children.